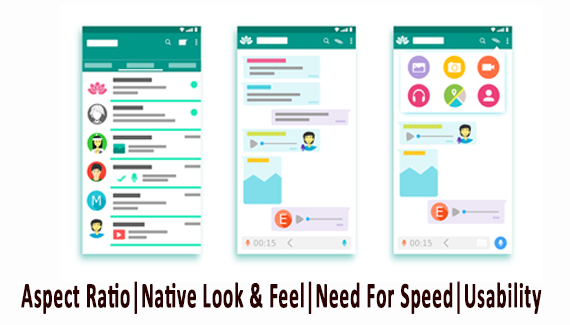 Some experts are of the opinion that only native apps work well and deliver the best experience. There is some truth in this because platform specific native application development fit in seamlessly with the native OS and the app will work fluidly. Native mobile application development is expensive and time consuming. The mobile application development agency must be expert in windows native app development, android phone app development and ios native app development.
Android Native App
Android phone app development starts with the android mobile app design that lays the foundation for user interface and underlying features. The android app design company should be expert in apps for mobile devices as well as wearables. Android app design and development also takes care of back end web APIs, database and servers that determine the apps performance where such databases are required. Each android app must undergo extensive testing for ease of use, functionality, performance and device specific testing among others.
iOS Native Apps
iPhone mobile app development companies must have teams that have specialized knowledge of the iOS environment in order to deliver effective ios native app development services. iOS mobile app design is very much a part of the iOS native app development processes that may make use of animations and transitions, gestures, 3D touch, pressure sensitive feature, use of the various sensors iphones are equipped with and haptic feedback among others.
Windows Native Apps
Even though Windows mobile is not as widely used as android and iOS, it is still there and windows phone app development company specializing in windows phone app development services must deliver apps that work seamlessly on the universal Windows platform. Experts in windows phone application development leverage the power of core APIs, C#, javascript and VB adaptive controls and panels to custom design Uis that work seamlessly on any screen size and resolution. The windows app must work natively on any windows device like Xbox, IoT devices, PCs and tables besides mobiles.