"Testing in Cloud" is a term that can be inferred via various ways. Our offshore QA team leverage the cloud-based augmenting test services empowering customer with testing efficiencies – be it test-bed setup time, tester's productivity, access to high-end infrastructure and software.
Cloud Testing: Should Read with Greater Flexibility, Agility, and Reduced Costs
The latest World Quality Report 2013-14 found an increased focus on testing as consumers become less tolerant to the faulty applications. Today's IT organizations need a solution that brings together testing tools, environment, knowledge, and resources without increasing cost of delivery or increasing delay in time-to-market. To address this need, CloudMynds has combined the testing and cloud expertise, providing a secure and flexible on-demand testing services. We provide an innovative testing solution in the Cloud. That together brings the best testing components providing low-cost, on-demand application quality without needing up-front investment.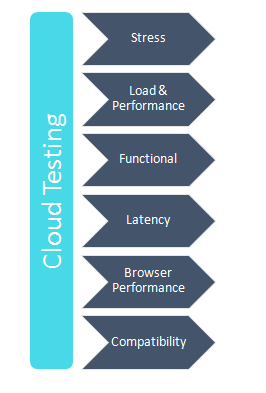 Testing Platform as-a-Service (TPaaS)
Testing Platform as-a-Service can be consumed as a standalone service or in combination with other testing services and solutions, such that you can choose the one that suits best addressing your business needs:
Base Service: Stand-Alone Testing Platform
For companies which need immediate access to a test environment and plan to use in-house staff to manage and perform all testing activities.
Advanced Service: Complete Testing Services and Solutions
For organizations looking for complete end-to-end testing service and an on-going commitment to the application quality.